When Ana came up with this wonderful idea of doing a 30 Ways We Homeschool blog party I wanted to join in on the fun. When I signed up it got me thinking about what my homeschool approach would be called. I had to really think about it because I have always said that I was an eclectic homeschooler. So writing this post has helped me define what I would call my homeschool approach. So here is what I call my eclectic, interest-led, Christ-centered homeschool approach.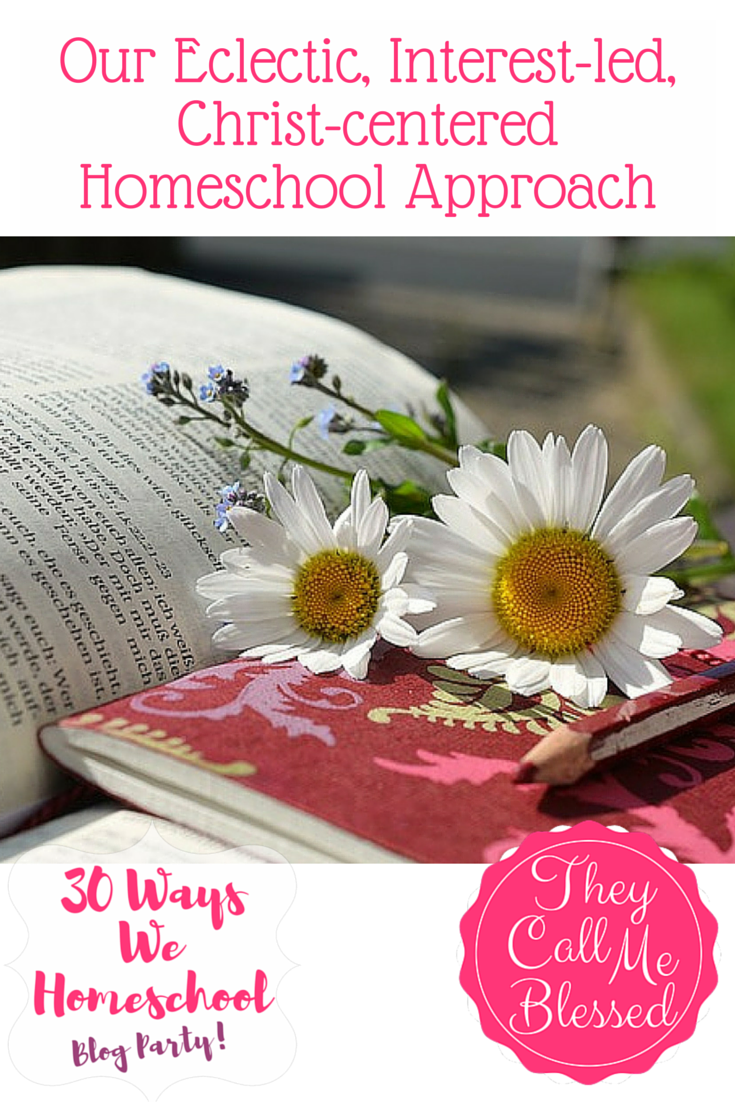 Tell us about you and your family.
We originally lived in Florida before the Lord called us to leave everything behind and take a leap of faith and move to Tennessee. It's been eight years now since the big move. We live in the country and enjoy having nature right in our own backyard. I am a stay at home mom, new blogger, and we have two energetic boys who are seven and twenty months.
How long have you been homeschooling?
We have been homeschooling for about 6 years now and enjoying our Christ-centered, interest-led, eclectic homeschool journey.
Tell us more about your eclectic, interest-led Christ-centered homeschool approach.
The center of our homeschool revolves around Christ. He is the one that called us to homeschool our children way before we had them. So we know that the Lord has a wonderful plan for each of one of them. So from the very beginning, I asked the Lord to guide me in the way that I should homeschool my children. Why? He is the one that created my boys and He knows exactly how to teach them.
If I trust God with my children's education he will guide me in teaching them what they need to learn. It is important to us that our children learn about Christ and that they will develop their own personal relationship with Him. As I researched the different approaches I noticed that all of them had something that attractive me to them. So I customized my approach by picking out the methods from each approach that was a perfect fit for our family, which in term makes me eclectic.
I also do a lot of interest-led lessons with my oldest and we LOVE it! It is so much fun to learn about a topic that you are interested in. We get to drive right in and stay there as long as we desire too. I love that I am able to let my sons' enjoy learning at their own pace and foster a love for learning in them. I use to fret thinking I wasn't doing enough with my oldest and soon realized that he will learn everything in due time. He is constantly learning and is exactly where he needs to be.
(read the full post over at They Call Me Blessed )
Jessica is a follower of Christ, wife, and mother of three energetic boys. She writes about homeschooling, frugal living, motherhood, intentional living and everything in between. Her heart is to inspire and encourage others to live an intentional life.