This list of resources came from our How to Homeschool in the Midst of Hard Things series. We had 25+ writers, motivational speakers and authors share their hearts and wisdom on homeschooling in the midst of hard things.
If you would like to read ALL the posts from the series just click here. I pray that the How to Homeschool in the Midst of Hard Things and this resource hub will be an encouragement and blessing to you!
Here is a list of resources that can help you in your homeschooling journey even through the hard times.
How to Homeschool in the Midst of the Hard Things Resources
Rachael's book, How Many Times Do I Have to Tell You?: What God wants us to hear when we talk to our kids is a great resource to have in your personal library.
Rachael Carman knows how noisy it can be when you're raising children. (She has seven!) But these insightful, heartwarming readings will help you to hear God's still, small voice amid the chaos of carpools, boo-boo fingers, and carpet crawlers. You'll learn to recognize and appreciate God's instructions for your life, even as you seek to follow His example as a parent.
---
Julie Bogart's new book, The Brave Learner: Finding Everyday Magic in Homeschool, Learning, and Life is such an encouraging book that will inspire you to make changes to your homeschool that will impact your life and your family.
"In this book, Julie Bogart distills decades of experience–homeschooling her five now grown children, developing curricula, and training homeschooling families around the world–to show parents how to make education an exciting, even enchanting, experience for their kids, whether they're in elementary or high school."
---
Melanie Wilson's book, The Organized Homeschool Life doesn't just organize your homeschool life but also your personal life! You're going to LOVE it!
"The Organized Homeschool Life book is a practical guide for achieving homeschool success, even if you're not naturally organized. As you complete the weekly challenges, you will save time and money so you can enjoy teaching your children."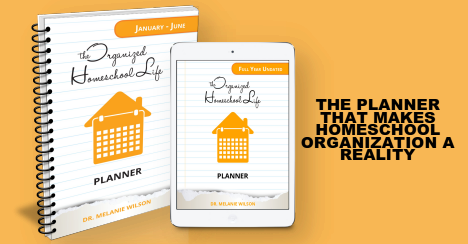 This book, Parenting Chaos: Practical Support and Encouragement for Parents of Explosive Children, written by Shawna Wingert is a great resource to have in your homeschooling library.
"For almost 14 years now, I have been trying to figure out how to react, how to respond, how to discipline, how to show compassion, and how to have boundaries around my children's behavioral challenges. This book is a journey through all of it – the successes, the total failures, the tears, the strategies, and more than anything else, the desire to help my children feel a sense of relief when it feels like there's none."
---
Connie's book, Parenting beyond the Rules: Raising Teens with Confidence and Joy is a book that every parent should have on hand. If you have a tween or teen this book is for you! You will find golden nuggets throughout the book that will change the way you parent.
In Parenting beyond the Rules, you will discover how to raise a teen according to his or her strengths, talents, and personality type, as these things equip teens to manage life.
---
Amber Lia's book, Triggers: Exchanging Parents' Angry Reactions for Gentle Biblical Responses is a book that every parent should have in their personal library. This book will change your anger-filled reactions to a more biblical and gentle response. This book has changed the lives of many families and highly recommended.
Triggers: Exchanging Parent's Angry Reactions for Gentle Biblical Responses examines common parenting issues that cause us to explode inappropriately at our children. Moving beyond simple parenting tips on how to change your child's behavior, authors Amber Lia and Wendy Speake offer biblical insight and practical tools to equip and encourage you on the journey away from anger-filled reactions toward gentle, biblical responses.
---
Compass Classroom offers a variety of video curriculum, such as the Homeschool Made Simple video course. They are worth checking out. I think you will like what they have to offer. You can use coupon code INTENTIONAL to get 20% off any subscription exclusive. <3
A new series designed especially for homeschool parents. Carole Joy Seid has almost 30 years experience teaching thousands of moms and dads a literature-based approach to homeschooling.
This series of workshops includes:
Educational philosophy
Age-appropriate learning
Encouraging spiritual growth
Teaching children to read great books
Building a curriculum
And much more
Carole's heartfelt desire is to make homeschooling simple, enjoyable and affordable. This is the first time she has put her material onto video. We think you'll love it.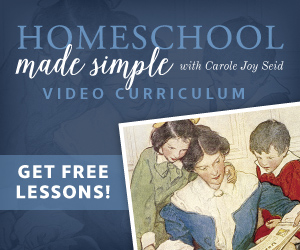 ---
Beth from Techie Homeschool Mom offers a variety of online unit studies. These are perfect for the mom who is too stressed and too exhausted to try to plan a curriculum during the hard times.
Courses are easy to navigate through a clear menu with easily defined headings and subheadings for modules and lessons. They are hosted in a secure environment without ad placement, so it's safe to let your students navigate on their own. Everything you'll need is included in one place. Videos are embedded directly into the course, so there's no need to leave and navigate to another page. And because this course is hosted online, links can be updated in real time, meaning that these courses will retain value better than downloadable PDF documents.
---
Dachelle knows how hard it can be to try to plan lessons and work through an unforeseeable crisis or just a crazy, busy time of life. And, trying to make your homeschool enchanting while dealing with these hard times is almost impossible. Her online book clubs are so much fun and you will learn a lot as well. Totally worth checking out! 🙂
At Literary Adventures for Kids, our goal is to add adventure and magic dust to literature. We go on deep dives, run down rabbit trails, explore the world of books with hands-on activities, and we inspire kids to read! These family book clubs are in-depth literature studies with the fun of a book club party.
---
Misty at Joy in the Journey has these soft and comfy Joy in the Journey t-shirts.
As homeschool moms sometimes we need a reminder to have joy…..
So, wear this shirt when you are having a mundane Monday.
Wear it on a day where you KNOW your patience will be tested.
Spot it on a day when you got little to no sleep the night before.
Wear it to show others the JOY you have in Christ!
I hope in doing so that YOU will be encouraged and that YOU will be an encouragement to others!
---
Tauna at Proverbial Homemaker has two fabulous homeschool helps. The first is her Rhythms & Routines Homeschool Planning System and the second is The Prayerful Homeschooler ebook.
I have been using her Rhythms & Routines Homeschool Planning System for a few years now and love it!
The Rhythms & Routines Homeschool Planning System will help you build an approach that fits to YOUR needs and style, making all the difference for a flexible and organized homeschool year.
Tauna's The Prayerful Homeschooler e-book is such a great, practical, and encouraging book that you will love to add to your quiet/prayer time. It's simple to follow and has everything you need to pray for your family and homeschool life.
The Prayerful Homeschooler e-book is a 70-page eBook that takes you through 8 areas of your family and homeschool life and helps you pray for them. You'll also find worksheets to help you pinpoint areas that need prayer the most, a 12-day homeschool mom's prayer journal, 8 beautiful scripture coloring pages, and a 30-day prayer calendar! 
Katrina at Rule This Roost has an Unschooling with Confidence Course and Unschooling with Purpose Binder. If you've ever toyed with the idea of unschooling then these homeschool resources are for you.
---
Christy at Play 4 Life Moms provides a year's worth of VIP text messages. If you are wanting text messages designed to inspire, uplift and encourage you on your mothering journey this service can be exactly what you are looking for.
---
Gena from Music in Our Homeschool offers some amazing online music courses like the High School Music course. If you are looking to add Music into your homeschool but don't know where to begin you need to try out Gena's Music courses. They are such a great addition to our homeschool and our boys truly enjoy them. They are such a treat!
---
We use and love CTCMath! I encourage you to give CTC Math a try. It is definitely a curriculum that I recommend hands down! CTCMath is definitely a stress-free way of learning Math and a great way to keep up with Math when life throws you a curve ball.
Our Child's Online Math Curriculum
For children in grades K-12
Great for catch up, for keeping up, and for moving ahead
Your kids learn at their pace, not somebody else's
Stop and rewind the teacher until you get it
Build confidence
24 x 7 unlimited access when you want it
Detailed progress reports
---
We LOVE drawing with Nana! Tricia from You Are an Artist has so many awesome Art courses like their Nature Art Video courses.It's such a fun and easy way to incorporate Art into your homeschooling. Your children will LOVE it and so will you! 😉
---
If you are raising girls, you are going to love this next resource! Lee at Like Minded Musings has this awesome course called Girls Created to Shine Courses! Lee's heart is to encourage young girls to shine and live for Christ so this would be a wonderful resource to invest in and complete with your daughters.
---
Sarah is the author of a Diary of a Dyslexic Homeschooler. It's a great resource to have in your homeschool library and a great read-aloud as well.
"Join a ten-year-old girl as she discovers she has a learning difficulty. Will she have the determination to keep seeking her dreams or will she ditch them in defeat?"
---
Sarah designed her Mom's Quiet Time Journal with busy homeschool moms in mind to use for encouragement and refreshment when they're feeling stressed.
---
Join Us in Our Private Facebook Group for Some Homeschool
Encouragement…We Would Love to Have You!
We will be providing you with more homeschool encouragement through Facebook Lives, articles, sharing, and interacting with others who may be going through some of the same things you may be going through. So please join us in the group and let's encourage each other as we homeschool in the midst of our own hard things.
Hope to see you inside the group!